I believe we all are the hero of our life story.  No matter how energetic, motivated, or intelligent we are, we will all have life happen to us and get knocked to the floor at some point.
But it is not what happens to us that matters.  It's what we do with what happens to us.
My work and my passion are as a mentor and a coach to driven and high-achieving women whose pain point right now is in the area of relationships.
You're used to being in control and excelling in most things you put your hands to.  However, now life has hit you in that area we can't control…other people.
MY BEGINNING...
This was me 9 years ago.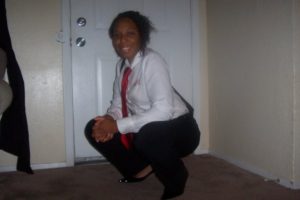 I was in college, had just pledged the most prestigious sorority for public service oriented black women, and I was a leader at work, in my church and on my college campus.  I had always been a go-getter, and I was committed to success no matter what.
Deep-down…perhaps like you…I had something to prove to myself.  I didn't have the best childhood experiences.  I was supposed to live a struggling and mediocre life statistically speaking.  But I had decided that I wasn't going to be about that life.
I was (and still am!) a nerdy, politically woke, and socially-conscious creative who had huge dreams of entrepreneurship and world travel.  Oh, and I was saving myself for marriage so that I could have something special to share with my future husband.
I quickly learned that my drive, my standards, and my God-given gifts that so many people thought were awesome also made it difficult for people to know what to do with me.  It made it difficult for some of my friends and family to understand me.  And my relationships with men were…well…complicated.
I attracted Type A men because they had enough pride not to be intimidated by my strong personality.  But it was a recipe for "power struggle" and insecurity.  These same men used to not being challenged, questioned or told "no" or "you'll have to wait" heard it all from me.  I was a secure, confident and motivated young woman.
So my relationships just did not work out.
MY PIT...
Then life hit me hard.  I had a series of violations in relationship.  I experienced hurt and betrayal at the hands of people I trusted and loved.  People who had titles...like "boyfriend", "pastor", and "best friend".
I went from being a secure, smart, confident young woman to...at my lowest point...having every ounce of self-worth stolen and instantly feeling lower than the floor.
I was miserable.  I was depressed.  I questioned whether being that strong-willed and driven self-starter was who I even wanted to be anymore.  It had brought me such pain and disappointment.  I blamed myself for a little while. I did.
You may be there now.  Your drama or trauma might not be the same as mine.  But your dreams, your commitment to creating your ideal life, and your unwillingness to settle has caused you pain and disappointment in your relationships.
You may be dealing with a serious break-up, divorce, loss of friendship, a recent emotional, physical, or sexual violation, or just crippling loneliness.
I've been there.  I've had violations in a relationship.
MY COME UP...
But I did not stay there.
I went through a process of healing and transformation over a period of a year and a half.  By the end of that process,  I knew myself more intimately, and I had fallen in love with my life story which included that last horrific chapter.
I went on to start a career helping people through tough times.
I provided counseling and coaching in my 9 to 5 as a Social Worker for 8 years before starting my own coaching business. I hold a Bachelors and a Masters degree in Social Work. I've worked with hundreds of clients after life happened to them and I've  seen the steps they take afterward that gets the best results.
You might be saying "Chaena…you say 'results' like you're talking about business or working out in the gym."  Well, its because I've learned that it requires strategy and intentional action to be at your best place emotionally;  Just like your business/career and just like your physical body does.
MY MISSION...
My clients have gone through relationship violations like divorces, rejection, undesired extended loneliness, domestic violence, sexual assault, and childhood traumas.  Their stories and my story have given me lots of material to pull from.
When we're strategic with our personal life, we don't leave it to hope and chance.  Instead, we do the work to TAKE control of our lives.
This is what I do for my clients.  I provide the information, strategies/tools and emotional support to help them do the intentional personal growth work needed to heal after life has happened and manifest the life and relationship they deserve.
I do this using my Signature step-by-step Coaching Process that I passionately call the "Heal Intentionally Blueprint."
If you're determined not to let your past traumas, dramas, or screw ups interfere with or delay your success anymore, you're right where you need to be.
Or…
If life has recently hit you and you want to become a better woman despite it, you're in the right place.
MY MESSAGE...
I know what it feels like to be in the fog, to feel weak, to have gone through something so life-altering that you kind of lost who you are.
I know what it feels like to be ready to step into something AWESOME  like starting a business or this new relationship and wanting to be sure you'll be successful this time.
There are millions of women in that fog or just coming out of the haze who could use some directed coaching and a proven system to help you get through it and to happiness in that area quicker, with fewer setbacks and less skipped steps.
I went through what I went through for you.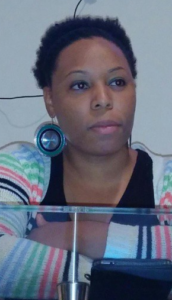 The gift of personal development and transformation has given me the ability to heal and overcome.
I'm now a wife to an amazingly loving husband, mother of 2 beautiful children, and a successful coach.  I'm still a nerd, I love a good TV show, and a good meal!  I'm a creative and deeply spiritual.  I believe I'm here to help women change an area of pain into something beautiful.
MY HOPE...
If you've read this far, thank you.  I hope this is just the beginning of our relationship.  Why not go ahead and become part of the Heal Intentionally Crew so we can stay connected?— I just need your name and email address.
PLUS, if you subscribe you'll get my Heal Intentionally Blueprint and a video Mini-Masterclass as my gift to you.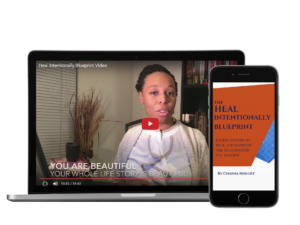 Thanks again for stopping by! See you soon.